Questions for leaders to use with their teams.
Use these questions to get your people thinking. You want them to take ownership, but they keep coming to you for answers. Shift the responsibility for answers to your team and learn more about them along the way.
Use these questions:
In an interview
To kick off a team meeting
In a hallway conversation
During your one-on-one times with your leaders.
Ask your leaders one of these questions and then really listen.
For more on this subject see: "The Power of a Question" by Dr. Jay Raines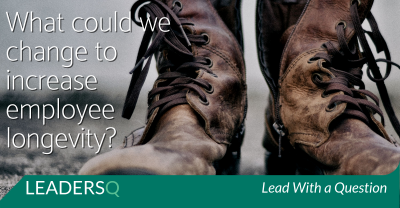 Ask your leaders: "What could we change to increase employee longevity?" We believe that great leaders ask great questions. Ask your leaders this question to begin a conversation about employee engagement. As you dig deeper into the implications of this question, you...
read more
SET UP A DISCOVERY CALL
Ready to work with LeadersQ? Great! Set up your appointment today!