Ask your leaders: "What would you tell a friend about your work environment?"
We believe that great leaders ask great questions. Use this question with your leaders to learn more about the culture of your organization. There are probably things about your culture that are kept hidden from you if you are a leader. This question can help uncover some of those hidden truths. But, this question also has the potential to reveal what is unique and wonderful about your culture. Make sure you empathize and listen to the negative answers without becoming defensive and celebrate the positive responses.
More thoughts about asking this question:
The question behind this question is: "What is our culture?" By asking your leaders questions like the one above, you are attempting to create a safe place to discuss the team and organizational culture. As a leader, you are responsible for the culture of your organization. Ultimately, leaders define culture. It is one of the top responsibilities of a leader. Think through these questions:
Who are you hiring? Leadership chooses who to bring into an organization. This is the first step in creating your culture. Finding the right people to bring into your organization is a major step toward creating the culture that you want to have.
How are you measuring behavior? Most teams manage behavior with policies (what not to do) and results (what we want you to do). Unfortunately, these two areas do not cover all behavior. There is another part of behavior that can only be measured against your defined culture. For example, measuring policy compliance and sales targets could result in someone winning at sales but treating the rest of the sales team like enemies. They are winning at your metrics and failing at upholding the brand and undermining the success of the team.
How would you define the culture that you have? If you are interviewing a new middle manager, would you be able to convey a clear definition of your culture.
How are you developing your people? Your people strategy must include clear expectations about behavior. When you have a defined culture, it provides a roadmap for developing and measuring the growth of your people.
Are there changes to your culture that you would like to make? Remember, leaders are responsible for leading the culture. What cultural elements would you like to remove? What elements would you like to add?
Take responsibility for your team culture. Ask your leaders the above question, "What would you tell a friend about your work environment?" If you find out that there are areas that need improvement, take that as your personal responsibility to introduce change. Your team will follow and trust you more as you define the culture more clearly.
We love leading teams to define and transform their team culture. If you would like to have our help, we have the tools and experience to lead you through that process.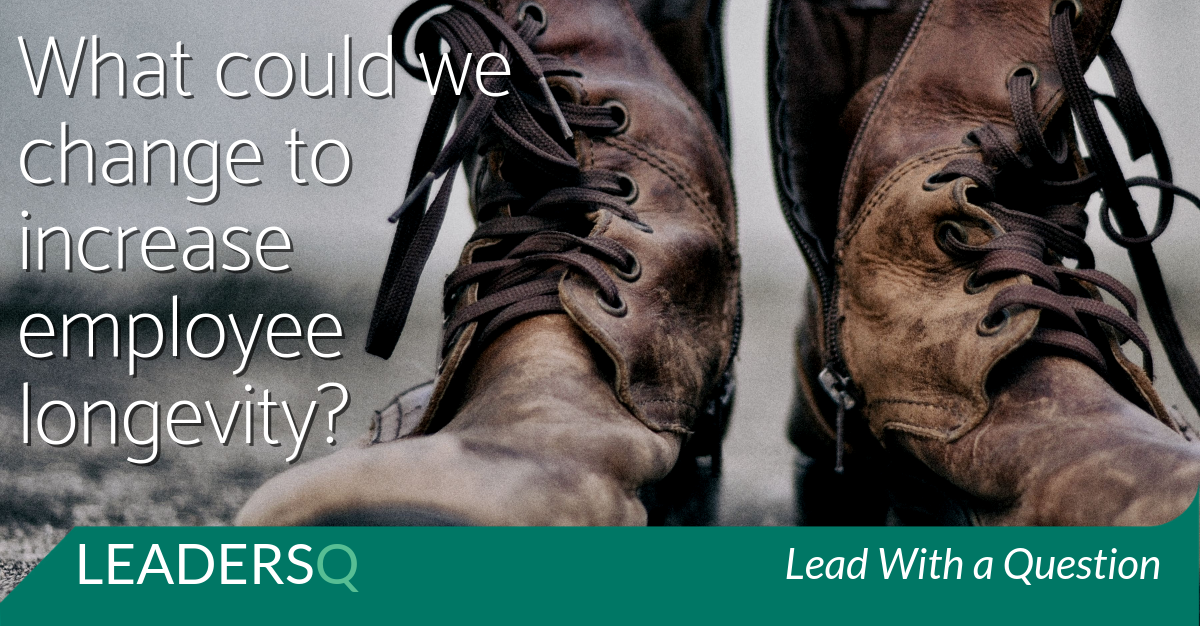 Ask your leaders: "What could we change to increase employee longevity?" We believe that great leaders ask great questions. Ask your leaders this question to begin a conversation about employee engagement. As you dig deeper into the implications of this question, you...